Friday, April 17, 2020 / by Lauren Wyatt
The Covid-19 Pandemic has created trying times for both parents and children alike. Our children are out of school for what feels like indefinitely and the majority of us, their parents, are working from home while assisting with their school work. Social distancing is keeping us from so many simple activities that we used to take for granted – going to the theater to catch a movie, having dinner at a restaurant with our family and friends, spin class. As adults, we have developed years worth of coping skills that will get us through these unfortunate and trying times. Our children, on the other hand, are lacking in these coping skills. Their booooooooorrred, so BOOOOOOORRRRED, and they tell us about it every day! That new video game is no longer keeping them entertained and they don't want to sit down and read for hours on end either. They miss their classmates and teachers. They miss going to the playground. They miss baseball practice and ballet class. They don't fully understand why they can no longer do these things. We now find ourselves coming up with new ways to entertain ourselves and our kids.


I don't know how others communicate with their neighbors daily but my neighbors communicate with each other in a private Facebook group specific to our neighborhood. This Facebook group used to have a lot of negative posts … "Who's car is this parked in front of my mailbox?" (insert photo of said car), "Why isn't our neighbor at 555 Park St. not shoveling the snow off their sidewalk?", "My neighbor's garbage can hasn't been moved off the curb yet.". In the past few weeks, the posts in our Facebook group have become more positive and uplifting. I'm seeing more neighbors reaching out to help each other. Neighbors are offering to deliver groceries to the elderly and families in need. Their setting up drop off boxes for cards to hospital patients and nursing home residents. Our neighborhood is finally coming together as a great little community!


My son and I were riding our bikes through the neighborhood over the weekend and everyone we passed was friendly to us and asked how we were doing. One cul de sac of neighbors was having a jam session with all their garage doors open. There was a taco truck set up in another cul de sac. You could text them your order and they would give you a specific pick up time to ensure no two people would be at the taco truck at once...social distancing at it's finest. St. Patricks Day and Easter came and went in the blink of an eye. Our neighborhood came together to make walks a little more fun by taping shamrocks and easter eggs in our windows for the kids to count as they walked by. Our neighborhood has created a scavenger hunt for the kids on their daily strolls. There is a scavenger hunt list posted in our neighborhood Facebook group and the first 3 kids to find everything on the list win 1 free month of Netflix. "Chalk Your Walk" is another fun activity that we are participating in. What fun it is for the neighborhood kids to see all of the positive messages and artwork displayed on the sidewalks when their walking by.


I am loving all of the positivity and support that is being shown throughout communities everywhere, much like ours, and only hope that it continues once we are through these times of crisis. We want to hear all about your neighborhood and what your neighbors are doing to come together and support each other right now. Tell us about your neighborhood's efforts in the Facebook comments below!
- Jessica Olmstead, The Wyatt Team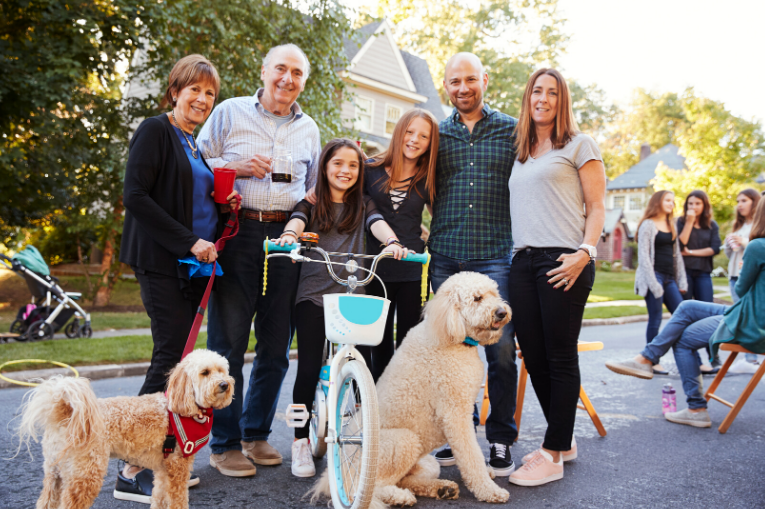 ---